Tanzania safari planning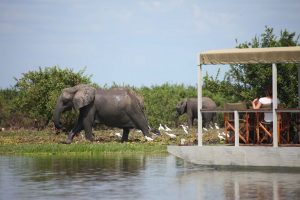 Tanzania is a big country, and the main safari destinations can be split into the north (The Serengeti and Ngorongoro Crater) or the south (The Selous and Ruaha). Most tourists flock to the north as it is comprised of the famed highlights of Tanzania – and rightly so as the wildlife is phenomenal. However, the fame of the north can often overshadow the south, which in our view is one of East Africa's best kept secrets. West Tanzania is also an option, though this is extremely expensive to get to and hardly any tourists do as a result. As a rough guide – when 70% of travellers head to the north, 25% go to the south, and only 5% or less venture to the West.
Northern Tanzania is expensive (comparatively to the south) but offers unrivalled wildlife viewing and is completely iconic.The South of Tanzania offers better value accommodation than the north, a less touristy experience but is not a classic 'big 5 safari destination'.
Southern itineraries are usually made up of either three of four nights in both The Selous and Ruaha. For those who want a very short safari and more beach time, then the Selous for four nights can be an easy and dependable option. However, we would recommend trying to combine both if budget allows, as this will provide you with diverse landscapes, wildlife and a range of safari activities.
Very few travellers head to Katavi and Mahale because the flights are simply very expensive, and the few lodges available there are too. If you did go though, you can either fly from Arusha via the Serengeti or from Dar, but via a night or two in Ruaha. Flights only operate a few days a week though, so the west is usually only doable for those with a big budget who are very set on visiting it and who will revolve their entire holiday around doing so.The south is king. Great value accommodation, authentically wild parks, no other vehicles, fantastic wildlife, close to the beach… I am glad people do flock to the north, otherwise the very thing which makes the southern parks so special will be lost.